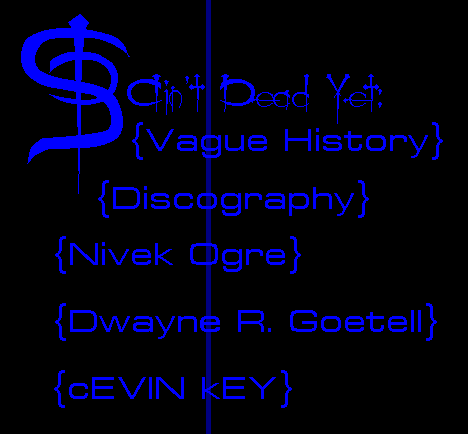 History
Probably the best way to describe Skinny Puppy is to quote an interview with Ogre, recently after the death of Dwayne Goetell, in which he spoke of a conversation he had shortly before Dwayne's death.

We had major disagreements on direction. He didn't want me to turn this band into a rock band, which I wasn't. I didn't want him to turn it into a techno band, which I'm sure he wasn't going to either...

Skinny Puppy was hatched during the summer of 1983, in Vancouver, Canada, as the brainchild of two young men of approximately the same taste in music--Throbbing Gristle, Kraftwerk,... This unsightly marriage spawned Back and Forth (really rare). BaF drew little or no attention, with the exception of Nettwerk Productions. Nettwerk made a two record deal with Skinny Puppy, and Remission was soon released.
After Remission, in October of 1985, Wilhelm Schroeder (Bill Leeb of Front Line Assembly fame) joined and Bites, the first full-length recording, was released. Schroeder left in 1986, during the recording of Mind: TPI, and was replaced by Dwayne Goetell.
Following the release of Mind: TPI, Cleanse, Fold, and Manipulate was released; containing some of their most "coherent, powerful material to date."
VIVIsectVI, released in October of 1988, marked the beginning of their "most ambitious tour to date", accompanied by "Chud".

The mind bending live show had evolved to more powerfully reflect the band's ongoing concerns for animal rights. Throughout the show, the audience witnessed a transformation. Ogre became the laboratory vivisectionist, the enlightened man, and finally the tortured test subject himself.

In response to the overwhelming response to Skinny Puppy, they released Rabies which took on a harder, more guitar-oriented sound. The video for "Worlock" was actually banned due to rapid violent imagery.

...nothing else really brings itself home. The sick thing is that violence really is a big part of our lives, and all we do is suppress it, not deal with it. It completely motivates our behavior, yet we never seem to admit that to ourselves. You know the world's not good to drink, but you drink it anyway...it's important to confront people and shock them into dealing with truths they're too afraid to deal with.

In October, 1990, Too Dark Park was released, offering up more "pure claustrophobia...frightful lyrical visions of a diseased, decayed planet." This was, again, followed by a tour and a new album: Last Rites, "a document of delusion...alot of pain and delusion."

It was the product of being near death, of being read those 'last rites'. This was my [Ogre] reality. In retrospect, it wasn't so much reality as it was partial delusion with bits and pieces of reality thrown in. That reality I can't really even talk about. Its just too 'out there'.

Following Last Rites was the recording, and subsequent final album, released by Skinny Puppy. Having been signed to American Records, they began the recording for The Process in Malibu, California, in the summer of 1993. They were given a house by the beach, and Shangri-La, the recording studio made famous by Bob Dylan, The Byrds, Eric Clapton. Not long before settling in, the Malibu fires during the fall of 1993 began, followed by the Malibu floods and mudslides in December. After two years of work on The Process, Ogre left the band, American dropped the band, and finally on August 23, 1995, Dwayne R. Goetell died from a fatal overdose of heroin in his parents' bathroom in hometown Edmonton, Canada.

He was the little-known genius behind the curtain of Skinny Puppy.

cEvin key has continued work on Doubting Thomas, Download, and Tear Garden, and Ogre has worked with Alien Jourgensen (Ministry) on W.E.L.T. and presently is on tour with KMFDM in support of their new album.

Discography
Back and Forth : 1983, independent
All songs appear in remastered form on Back and Forth series Two.

Sleeping Beast
K-9
Quiet Solitude
The Pit
Dead Of Winter
Meat Flavour
Edge Of Insanity
Remission : 1985
Some vinyl had "TLC?" etched on Forth.

Smothered Hope
Glass Houses
Incision
Far Too Frail
Film
Manwhole
Solvent
Sleeping Beast
Glass Out
Brap...
Bites : 1985
Some vinyl has "Hell 'o' Death Day" etched.

Blood On The Wall
Church
Ice Breaker
Tomorrow
Dead Doll
Film
Love
The Choke
Social Deception
Christianity
Basement
Last Call
Falling
The Centre Bullet
One Day
Cage
Mind: The Perpetual Intercourse : 1986
Some vinyl has "NTWK ORGANISED CHAOS" and "Execute economic SLAVE" etched.

One Time One Place
God's Gift (Maggot)
Three Blind Mice
Love
Stairs And Flowers
Antagonism
200 Years
Dig It
Burnt With Water
Chainsaw
Addiction (2nd Dose)
Stairs And Flowers (dub)
deep down Trauma
Hounds (remix)
Dig It : single, 1986

Dig It (12"v)
The Choke (Re-Grip)
Film
Bites And Remission : 1987

Film
Smothered Hope
Glass Houses
Far Too Frail
Solvent
Sleeping Beast
Glass Out
Brap
Assimilate (r23)
Dead Lines
Blood On The Wall
Ice Breaker
Christianity
The Choke (Re-Grip)
Social Deception
Basement
Last Call
Chainsaw : single, 1987
Some vinyl has "WEVE GOT THE TASTE" and "SHEPPARD WASHES the Blood" on side one; "ICH BIN SHOOSER", "LOVE AFFAIR", "RPM", "COPA", "BUSINESS", and "DIAMOND" on side two.
Sheppard=Chris Sheppard (Toronto DJ)
Love Affair, RPM, Copa, Business, Diamond=Toronto/Vancouver clubs

Chainsaw
Assimilate (r23)
Cage
Stairs And Flowers (Def Wish Mix)
Stares And Flowers (Too Far Gone)
Cleanse, Fold, And Manipulate : 1987
Some vinyl has "BRAP..." etched on That Side; "ICH BIN SCHEISS!" on This Side.

First Aid
Addiction
Shadow Cast
Draining Faces
The Mourn
Second Tooth
Tear Or Beat
deep down Trauma
Hounds
Anger
Epilogue
Addiction : single, 1987
Some vinyl has "Green Guy" etched on side Two.

Addiciton
First Dose
Addiction
Second Dose
deep down Trauma
Hounds Remix
VIVIsectVI : 1988

Dogshit
VX Gas Attack
Harsh Stone White
Human Disease (S.K.U.M.M.)
Who's Laughing Now?
Testure
State Aid
Hospital
Waste
Fritter (Stella's Home)
Yes He Ran
Park In Park's Zoo
The Second Opinion
Funguss
Censor : single
Testure : single
Ain't It Dead Yet? : 1991
Recorded life at the Toronto Concert Hall, June 1, 1987.

Anger
The Choke
Addiction
Assimilate
First Aid
Dig It
One Time One Place
deep down Trauma
Hounds
Chainsaw
Brap
Smothered Hope
Rabies : 1989

Rodent
Hexonxonx
Two Time Grime
Fascist Jock Itch
Worlock
Rain
Tin Omen
Rivers
Choralone
Amputate
Spahn Dirge
Tin Omen : single

Worlock : single

Twelve Inch Anthology : 1989

Dig It (12"v)
The Choke (Re-Grip)
Addiction (First Dose)
Addiction (Second Dose)
deep down Trauma
Hounds
Serpants
Chainsaw
Assimilate (r23)
Stairs And Flowers (Def Wish Mix)
Stares And Flowers (Too Far Gone)
Testure (12" Mix)
Testure (S.F. Mix)
Too Dark Park : 1990

Convulsion
Tormentor
Spasmolytic
Rash Reflection
Nature's Revenge
Shore Lined Poison
Grave Wisdom
T.F.W.O.
Morpheus Laughing
Redamation
Tormentor : single

Spasmolytic : single

Last Rites : 1992
"Quality Controlled Skinny Puppy"

Love In Vein
Killing Game
Knowhere?
Mirror Saw
Inquisition
Scrapyard
RiverzEnd
Lust Chance
Circumstance
Download
Inquisition : single

Inquisition (single mix)
Inquisition (extended mix)
Iahuman8
Mirror Saw (Dub)
Back And Forth 2 : 1992
Limited edition (1000) etched metal box, first 192 contained signed print.

Intro (Live In Winnipeg)
Sleeping Beast
K-9
Monster Radio Man
Quiet Solitude
The Pit
Sore In a Masterpiece
Dead Of Winter
Unovis On A Stick
To A Baser Nature
A.M.
Meat Flavour
My Voice Sounds Like Shit
Smothered Hope (demo)
Explode the P.A. (Live Brap)
Assimilate (original instrumental demo)
Edge Of Insanity
The Process : 1996
"This album is Dedicated in Loving Memory Of D.R. Goetell
February 1, 1964-August 23, 1995"

Jahya
Death
Candle
Hardset Head
Cult
Process
Curcible
Blue Serge
Morter
Amnesia
Cellar Heat
Brap (3&4) : 1996
v.3-track 1 [multimedia track]

Uranus Cancelled
All Eyes
Reclamation
Spasmolytic
Grave Wisdom
Tin Omen
Gods Gift
Convulsion
Nature's Revenge
Love In Vein
TWFO
Choralone
v.3-track 1 [multimedia track]

Jackhammer
Splasher
Double Cross
Yo Yo Scrape
Carry
Guilty
The Soul That Creates
Brap
Sparkless
Dead Doll
Dead Lines
Last Call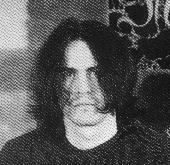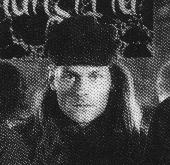 Nivek Ogre                         The Duck                         cEvin Key
[Main][Introduction/Credits][Skinny Puppy]
[E. Neubauten][Medievia]["The Edge"]["Death"]
[Betty Page][Anti Vivisection][Links][sl_20.01]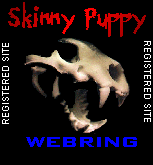 The Skinny Puppy Web Ring is owned and managed by JDL
This site is owned by Hexon Xonx